SUPPORTING ABLOC CT RACING TEAM
Recently, Netherlands-based racing team, ABLOC CT, celebrated its long partnership with Exustar by interviewing us in its team magazine. Read about our eight-year sponsorship of the team and a little about our own company history.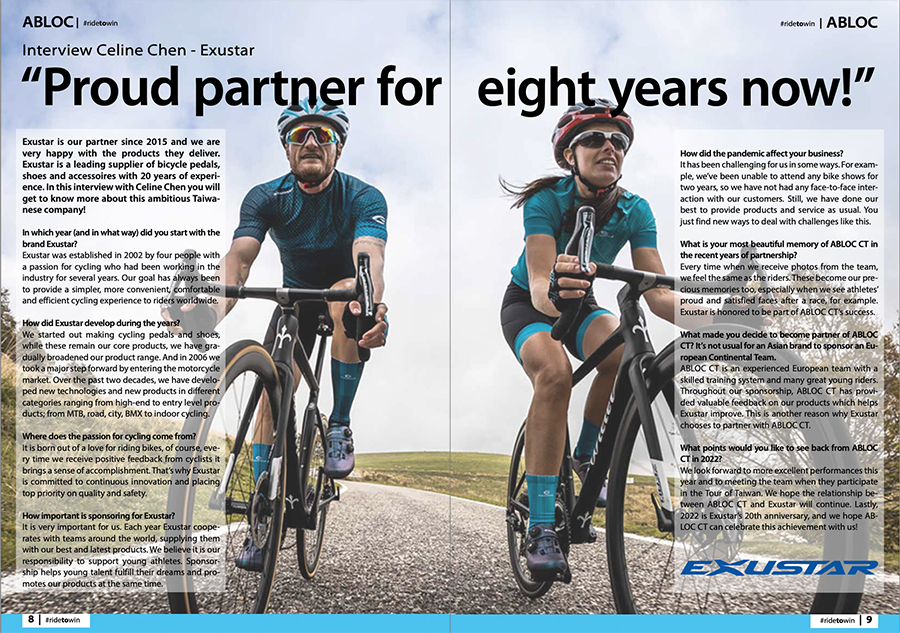 The Interview
In which year (and in what way) did you start with the brand Exustar?
Exustar was established in 2002 by four people with a passion for cycling who had been working in the industry for several years. Our goal has always been to provide a simpler, more convenient, comfortable and efficient cycling experience to riders worldwide.
How did Exustar develop during the years?
We started out making cycling pedals and shoes, and these remain our core products, but we have gradually broadened our product range. And in 2006 we took a major step forward by entering the motorcycle market. Over the past two decades, we have developed new technologies and new products in different categories ranging from high-end to entry level products; from MTB, road, city, BMX to indoor cycling.
Where does the passion for cycling come from?
It is born out of a love for riding bikes, of course, but every time we receive positive feedback from cyclists it brings a sense of accomplishment. That's why Exustar is committed to continuous innovation and placing top priority on quality and safety.
How important is sponsoring for Exustar?
It is very important for us. Each year Exustar cooperates with teams around the world, supplying them with our best and latest products. We believe it is our responsibility to support young athletes. Sponsorship helps young talent fulfil their dreams and promotes our products at the same time.
How did the pandemic affect your business?
It has been challenging for us in some ways. For example, we've been unable to attend any bike shows for two years, so we have not had any face-to-face interaction with our customers. Still, we have done our best to provide products and service as usual. You just find new ways to deal with challenges like this.
What is your most beautiful memory of ABLOC CT in the recent years of partnership?
Every time when we receive photos from the team, we feel the same as the riders. These become our precious memories too, especially when we see athletes' proud and satisfied faces after a race, for example. Exustar is honored to be part of ABLOC CT's success.
What made you decide to become partner of ABLOC CT? It's not usual for a Asian brand to sponsor an European Continental Team
ABLOC CT is an experienced team European team with a skilled training system and many great young riders. Throughout our sponsorship, ABLOC CT has provided valuable feedback on our products which helps Exustar improve. This is another reason why Exustar chooses to partner with ABLOC CT.
What points would you like to see back from ABLOC CT in 2022?
We look forward to more excellent performances this year and to meeting the team when they participate in the Tour of Taiwan. We hope the relationship between ABLOC CT and Exustar will continue. Lastly, 2022 is Exustar's 20th anniversary, and we hope ABLOC CT can celebrate this achievement with us!